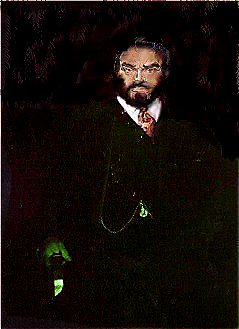 Count Dargo Shaitanus
Count Dargo Shaitanus is a is a fictional character, an ancient member of the Legion of Time Sorcerers,who helped prepare the foundations of this temporal wizard warrior class. published by Maveric Comics .
Unlike many later members of the Imperial House of Shaitanus Count Dargo was noble in nature, courageous, and possessed unshakable integrity,even it might sometimes take on a ruthless,cunning side.Dargo Shaitanus was a prominent and highly respected military commander leading up to, and during, the Great Post Recovery Period -following the last of the Tauron Wars and one of the main influences in later Great Atlantean Exploration of Temporal Space.. The name of Shaitanus became a thing of discrace when murdered the Grand Patriarch Supreme Lord: Rhandark Attumas Sarkhon,an action that tainted his family's name for many centuries.
He is a brilliant tactician with immense technological prowess is a highly intelligent, aloof and sardonic.He is said to be one of the initial four founder the Legion of Time sorcerers society on the planet Atlantis,even many other before him and after had their part in it's creation.
Mental abilities ===
Both Doctor Harland Sarkhon and Count Dargo Shaitanus have been shown to be skilled hypnotists, although Count Dargo Shaitanus's capacity to dominate – even by stare and voice alone – has been shown to be far more pronounced.
Utterly self-serving and ruthless,Dargo believes his freind Count Harland Sarkhon,is a bit nieve and too idealistic to survive the harsh worlds beyond the Atlantean homeworld. he has idealism, and their relationship is consequently somewhat strained.
Count Dargo Shaitanus quickly became the most popular character on the show due to his darker nature, his unclear motives, and sardonic wit.
Characteristics
Intelligence and attitude
Count Dargo Shaitanus and Doctor Harland Sarkhon Harland Sarkhon are shown to have similar levels of intelligence, and were classmates on within The Academy of in which the Dargo reminisces with the Count Harland Sarkhons about his father's estates on Atlantis and his childhood with his good friend,sharing adventures with Bernard Sarkhon before saying "look at us now".
Powers & Abilities;
;possesses genius-level intelligence, and is an aloof and sardonic computer expert
=== Mental abilities ===
Both the Dargo Shaitanus and the Harlan Sarkhon have been shown to be skilled hypnotists,by way of their hypermentation training and telelink implants although the 's capacity to dominate – even by stare and voice alone – has been shown to be far more pronounced.
Children
His long life span has allowed him to gain a broad range of knowledge in a variety of fields, as well as granting him a great deal of influence over the world in general and the villain community in particular
 Count Dargo Shaitanus