http://www.wizards.com/magic/images/mtgcom/fcpics/features/_9E_Wisp_RobAlexander.jpg A force field, sometimes known as an energy shield, force shield, or deflector shield is a barrier, typically made of energy or charged particles, that protects a person, area or object from attacks or intrusions. Force fields tend to appear often in works of speculative fiction.
In real life
Edit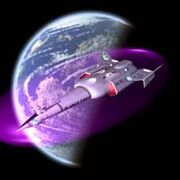 A University of Washington in Seattle group has been experimenting with using a bubble of charged plasma to surround a spacecraft, contained by a fine mesh of superconducting wire.[1] This would protect the spacecraft from interstellar radiation and some particles without needing physical shielding.
Likewise, Rutherford Appleton Laboratory is attempting to design an actual test satellite, which should orbit Earth with a charged plasma field around it.[2][3]
Workers at a 3M factory in South Carolina have encountered electrostatically-charged air that impeded movement, with the problem fixed by properly grounding the equipment causing the stray charges.[4]
Plasma windows have some similarities to force fields, being difficult for matter to pass through.
In fiction
Edit
Science fiction and fantasy venues postulate a number of potential uses for force fields:
A barrier to allow workers to work in areas that can be exposed to the vacuum of space, keeping the atmosphere inside while allowing certain other objects to pass through.
Emergency quarantine of an area afflicted by a harmful biological or chemical agent or occupied by enemy forces.
The extinguishing of a fire by forcing the reaction to use up all the available oxygen in the confined space.
As a shield (in some cases large enough to cover an entire planet) to protect something from damage by natural forces or enemy attack.
To create a temporary habitable space in a place not usually suited to sustaining life.
As a security method to direct someone in a particular direction for capture, or to confine a captive in a particular area.
The concept goes back at least as far as the 1920s, in the works of E.E. 'Doc' Smith and others; and William Hope Hodgson's The Night Land (1912) has the Last Redoubt, in which the remnants of humanity shelter, protected by something very like a force field.
The abilities and exact functionality of energy shields vary; in some works (such as in the Star Trek universe), energy shields can stop both energy and particle weapons (e.g. phasers) and normal projectiles, both natural and artificial; in others, such as the Star Wars universe, there are multiple types of force fields that defend against different sorts of attacks.
Energy shields usually work by absorbing or dissipating the energy of the incoming attack; prolonged exposure to such attacks weakens the shield and eventually results in the shield's collapse, making the ship's hull (or building's walls, or planet's surface) vulnerable to attack. An example of this is the aerial Scrin Battleships in Command and Conquer 3: Tiberium Wars. Larger energy shield systems, or those powered by bigger energy sources, can absorb/dissipate more damage before failing -- so that larger starships, for example, can mount much stronger shields than a small, single-person starfighter, much in the way that a seagoing battleship has much thicker armor than a tiny patrol boat. In some instances, shields are actually able to incorporate at least some of the projectile's kinetic energy into themselves, making the shield stronger with each hit.
In some works, shields are completely invulnerable to all technology of the time, yet can only be operated for a limited period of time, or at a great expense of energy. This is often used in games to give the player temporary invulnerability (for example, the "Iron Curtain" used by the Soviet Union in Command & Conquer: Red Alert). In other examples, shields are invulnerable, yet they are unreliable, meaning they can't block everything. One such example is Haegemonia, where the basic deflector shields deployed in the late stages of the Earth-Mars civil war were capable of blocking projectiles with an average chance of 30% (meaning shots went right through the shield 70% of the time). This ratio was later improved, yet these shields weren't completely invulnerable; in addition, although the most advanced shields used at the beginning of the Human-Kariak-Darzok war boasted an impressive 80% blocking ratio, they were largely ineffective (only about 40%) against missile weapons, a lethal liability on planetary shields.
Very rarely, weapons designed specifically against shields also appeared (such as the "phasing cannon" in X-COM: Interceptor: it was designed to rapidly deplete the target craft's shields so that it can be finished off or disabled quickly). These pieces of equipment were designed to shut down or otherwise weaken the targeted ship/building/planet's shields so that other weapons can be brought to bear on the vulnerable hull/walls/planetary surface. An example of this type of anti-shield weaponry is a projectile that is capable of destroying the shield itself (notably the "Shield Breaker" round designed for use in the Exitus sniper rifle, which is in turn used by Vindicare Assassins in Warhammer 40,000, often against individuals using personal shields). In Supreme Commander: Forged Alliance, an Aeon Illuminate unit, called the Absolver, is armed with a Shield Disruptor cannon, doing massive damage to shields, but are useless against other units.
Examples
Edit
Further reading
Edit
de:Energieschild es:Campo de fuerza (ciencia ficción) fr:Champ_de_force_(science-fiction) it:Scudo deflettore (fantascienza) ja:シールド (サイエンス・フィクション) pt:Escudo defletor ru:Силовое поле (научная фантастика)
Community content is available under
CC-BY-SA
unless otherwise noted.