== ==The Headquarters Building -Fiction vs Fact.== ==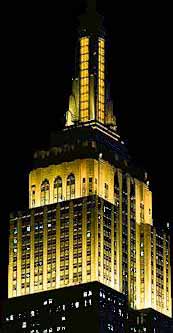 -Although it is never actually stated,but according Phillip Jose Farmers Doc Savage His Apocholyptic Life and many fans and fansite.Doc Savages fictional headquarter is a real building in New York City
.nor other than the Empire State Building-once the talest building in the world and very famous for being in two movies,the only place where King Kong could go once his chips where down.
Base of Operations: Penthouse Apartment, 86th Floor, Empire State Building, New York
http://www.internationalhero.co.uk/d/docsavag.htm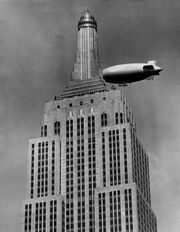 Doc Savage first had the idea for a skyscraper home and headquarters in his teen years. By that time he was already looking to the future when his studies and training would be completed, and he would begin his strange career.
Designed by Doc and Renny Renwick to be the world's tallest skyscraper, construction began in early 1930. A unique approach to the construction sequencing of structural steel, concrete and stone masonry activities devised by Renny, accelerated the installation, and the building opened for business in record time on May 1st 1931.
Doc Savage took occupancy of the 86th floor 3 weeks later. From a height of 1,050 feet above the street below, his offices command a view of all of Manhattan Island as well as the Hudson and East Rivers.

==The 86th Floor==
Edit
Doc Savages office is on the 86th floor of a New York City skyscraper, implicitly the Empire State Building, reached by Doc's private high-speed elevator. Doc owns a fleet of cars, trucks, aircraft, and boats which he stores at a secret hangar on the Hudson River, under the name The Hidalgo Trading Company, which is linked to his office by a pneumatic-tube system nick-named the "flea run." He sometimes retreats to his Fortress of Solitude in the Arctic—. All of this is paid for with gold from a Central American mine given to him by the local Mayans in the first Doc Savage story. (Doc and his assistants learned the little-known Mayan language of this people, allowing them to communicate privately when others might be listening.)
{{Infobox Skyscraper
|building_name= Empire State Building
|image= 200px
|previous_building= Chrysler Building (in the background of the picture)
|year_built=1931
|surpassed_by_building= World Trade Center (1972)
|year_highest=1931
|year_end= 1973
|location= 350 Fifth Avenue<br />New York, New York 10118<br />Template:USA<ref name="EmpireZip"/>
|coordinates =Template:Coord<!-- rounded from 54.36051", 08.35715" in the source --><ref>National Geodetic Survey datasheet KU3602, Retrieved 2009-07-26</ref>
|antenna_spire= Template:Convert<ref> ESBNYC.com </ref>
|roof= Template:Convert
|top_floor= 1,224 ft (373.2 m)<ref name="SkyscraperPage">SkyscraperPage – Empire State Building, antenna height source: CTBUH, top floor height source: Empire State Building Company LLC</ref>
|height_stories= 102
|cost= $40,948,900<ref name="cost"/>
|construction_period= 1929–1931<ref name="Enc-NY-ESB" />
|use= Office, observation
|complete=1931-05-01
|architect= Shreve, Lamb and Harmon
|contractor= Starrett Brothers and Eken
|management= W&H Properties
|emporis_id= 114095
}}

The Empire State Building is a 102-story landmark Art Deco skyscraper in New York City at the intersection of Fifth Avenue and West 34th Street. Its name is derived from the nickname for the state of New York. It stood as the world's tallest building for more than forty years, from its completion in 1931 until construction of the World Trade Center's North Tower was completed in 1972. Following the destruction of the World Trade Center in 2001, the Empire State Building once again became the tallest building in New York City and New York State.

The Empire State Building has been named by the American Society of Civil Engineers as one of the Seven Wonders of the Modern World. The building and its street floor interior are designated landmarks of the New York City Landmarks Preservation Commission, and confirmed by the New York City Board of Estimate.<ref name="AIA">White, Norval & Willensky, Elliot; AIA Guide to New York City, 4th Edition; New York Chapter, American Institute of Architects; Crown Publishers. 2000. p.226.</ref> It was designated as a National Historic Landmark in 1986.<ref name="nhlsum">==Further reading==
==Further reading==
Template loop detected: Template:Cite book
Template loop detected: Template:Cite book
{{cite book | first=Robert | last=Heinlein | authorlink= | date=1980 | title=Expanded Universe | edition= | publisher=Ace Books | location=New York |
==Further reading==
Template loop detected: Template:Cite book
Template loop detected: Template:Cite book
{{cite book | first=Robert | last=Heinlein | authorlink= | date=1980 | title=Expanded Universe | edition= | publisher=Ace Books | location=New York |
{{cite book | first=Robert | last=Heinlein | authorlink= | date=1980 | title=Expanded Universe | edition= | publisher=Ace Books | location=New York |</ref><ref name="nhlnom">==Further reading==
==Further reading==
Template loop detected: Template:Cite book
Template loop detected: Template:Cite book
{{cite book | first=Robert | last=Heinlein | authorlink= | date=1980 | title=Expanded Universe | edition= | publisher=Ace Books | location=New York |
==Further reading==
Template loop detected: Template:Cite book
Template loop detected: Template:Cite book
{{cite book | first=Robert | last=Heinlein | authorlink= | date=1980 | title=Expanded Universe | edition= | publisher=Ace Books | location=New York |
{{cite book | first=Robert | last=Heinlein | authorlink= | date=1980 | title=Expanded Universe | edition= | publisher=Ace Books | location=New York |</ref><ref name="nrhpphotos">==Further reading==
==Further reading==
Template loop detected: Template:Cite book
Template loop detected: Template:Cite book
{{cite book | first=Robert | last=Heinlein | authorlink= | date=1980 | title=Expanded Universe | edition= | publisher=Ace Books | location=New York |
==Further reading==
Template loop detected: Template:Cite book
Template loop detected: Template:Cite book
{{cite book | first=Robert | last=Heinlein | authorlink= | date=1980 | title=Expanded Universe | edition= | publisher=Ace Books | location=New York |
{{cite book | first=Robert | last=Heinlein | authorlink= | date=1980 | title=Expanded Universe | edition= | publisher=Ace Books | location=New York |</ref> In 2007, it was ranked number one on the List of America's Favorite Architecture according to the AIA.
The building is owned and managed by W&H Properties.<ref>W&H Properties – Empire State Building</ref>

The Empire State Building is the third tallest skyscraper in the Americas (after Chicago's Willis Tower and Trump International Hotel and Tower) and the 15th tallest in the world. It is also the 4th tallest freestanding structure in the Americas. The Empire State building is currently undergoing a $120 million renovation in an effort to transform the building into a more energy efficient and eco-friendly structure.<ref>Skyscrapers Becoming More Eco-Friendly In Hopes to Lure Tenants</ref>

==History==
{{Infobox nrhp
| name =Empire State Building
| nrhp_type = nhl
| image = Empire State Building by David Shankbone.jpg
| designated_nrhp_type = June 24, 1986<ref name="nhlsum">Template:Cite web</ref>
| designated_other2_name = NYC Landmark
| designated_other2_date = May 19, 1981
| designated_other2_abbr = NYCL
| designated_other2_link = New York City Landmarks Preservation Commission
| designated_other2_number =
| designated_other2_color = #ff0000
| governing_body =
| locmapin = New York
| lat_degrees = 40
| lat_minutes = 44
| lat_seconds = 54.36
| lat_direction = N
| long_degrees = 73
| long_minutes = 59
| long_seconds = 08.36
| long_direction = W
| location= 350 Fifth Avenue<br />New York, New York 10118<br />Template:USA<ref name="EmpireZip">The Empire State Building is located within the 10001 zip code area, but 10118 is assigned as the building's own zip code. Source: USPS.</ref>
| architect= Shreve, Lamb and Harmon
| architecture= Art Deco
| floor_area=Template:Convert rentable (2007)<br />External: Template:Convert<ref name="Citycyclopedia"/>
| added = November 17, 1982<ref name="nris">Template:Cite web</ref>
| refnum=82001192
}}

The site of the Empire State Building was first developed as the John Thomson Farm in the late 18th century. At the time, a stream ran across the site, emptying into Sunfish Pond, located a block away. Beginning in the late 19th century the block was occupied by the Waldorf-Astoria Hotel, frequented by The Four Hundred, the social elite of New York.

===Design and construction===
The Empire State Building was designed by Gregory Johnson and his architectural firm Shreve, Lamb and Harmon, which produced the building drawings in just two weeks, using its earlier designs for the Reynolds Building in Winston-Salem, North Carolina and the Carew Tower in Cincinnati, Ohio as a basis. Every year the staff of the Empire State Building sends a Father's Day card to the staff at the Reynolds Building in Winston-Salem to pay homage to its role as predecessor to the Empire State Building.<ref> Reynolds Building. Retrieved November 15, 2008.</ref><ref>Cincinnati Skyscrapers, Waymarketing.com</ref> The building was designed from the top down.<ref>"Thirteen Months to Go", Geraldine B. Wagner, 2003, Quintet Publishing Ltd., pg. 32</ref> The general contractors were The Starrett Brothers and Eken, and the project was financed primarily by John J. Raskob and Pierre S. du Pont. The construction company was chaired by Alfred E. Smith, a former Governor of New York and James Farley's General Builders Supply Corporation supplied the building materials.<ref name="Enc-NY-ESB">
{{cite encyclopedia
| last = Willis
| first = Carol
| authorlink = Carol Willis (architectural historian)
| editor = Kenneth T. Jackson
| title = Empire State Building
| encyclopedia = The Encyclopedia of New York City
| pages = 375-376
| publisher = Yale University Press & The New-York Historical Society
| location = New Haven, CT & London & New York
| year = 1995}}
</ref>


File:Old timer structural worker2.jpg



Excavation of the site began on January 22, 1930, and construction on the building itself started symbolically on March 17—St.Patrick's Day—per Al Smith's influence as Empire State, Inc. president. The project involved 3,400 workers, mostly immigrants from Europe, along with hundreds of Mohawk iron workers, many from the Kahnawake reserve near Montreal. According to official accounts, five workers died during the construction.<ref>about.com – Empire State Building Trivia and Cool Facts</ref> Governor Smith's grandchildren cut the ribbon on May 1, 1931. Lewis Wickes Hine's photography of the construction provides not only invaluable documentation of the construction, but also a glimpse into common day life of workers in that era.<ref>"Lewis Wickes Hine: The Construction of the Empire State Building, 1930-1931 (New York Public Library Photography Collection)"</ref> In particular the photo of a worker climbing a stay cable<ref>"Icarus, high up on Empire State; Lewis Wickes Hine, New York Public Library Photography Collection"</ref> is talismanic of the era and the building itself.

The construction was part of an intense competition in New York for the title of "world's tallest building". Two other projects fighting for the title, 40 Wall Street and the Chrysler Building, were still under construction when work began on the Empire State Building. Each held the title for less than a year, as the Empire State Building surpassed them upon its completion, just 410 days after construction commenced. The building was officially opened on May 1, 1931 in dramatic fashion, when United States President Herbert Hoover turned on the building's lights with the push of a button from Washington, D.C. Ironically, the first use of tower lights atop the Empire State Building, the following year, was for the purpose of signalling the victory of Franklin D. Roosevelt over Hoover in the presidential election of November 1932.<ref>Tower Lights History Retrieved 2007-12-16</ref>

===Opening===
The building's opening coincided with the Great Depression in the United States, and as a result much of its office space went without being rented. The building's vacancy was exacerbated by its poor location on 34th Street, which placed it relatively far from public transportation, as Grand Central Terminal, the Port Authority Bus Terminal, and Penn Station are all several blocks away. Other more successful skyscrapers, such as the Chrysler Building, do not have this problem. In its first year of operation, the observation deck took in approximately 2 million dollars, as much money as its owners made in rent that year. The lack of renters led New Yorkers to deride the building as the "Empty State Building".<ref>NYT Travel: Empire State Building</ref><ref>"A Renters' Market in London." August 18, 2008.</ref> The building would not become profitable until 1950. The famous 1951 sale of The Empire State Building to Roger L. Stevens and his business partners was brokered by the prominent upper Manhattan real-estate firm Charles F. Noyes & Company for a record $51 million. At the time, that was the highest price ever paid for a single structure in real-estate history.<ref>[1]—New York: A Documentary Film.</ref>

===Dirigible (airship) terminal===
The building's distinctive Art Deco spire was originally designed to be a mooring mast and depot for dirigibles. The 102nd floor was originally a landing platform with a dirigible gangplank.<ref name = "Enc-NY-Unbuilt">
{{cite encyclopedia
| last = Shanor
| first = Rebecca Read
| authorlink =
| editor = Kenneth T. Jackson
| title = Unbuilt projects
| encyclopedia = The Encyclopedia of New York City
| pages = 1208-1209
| publisher = Yale University Press & The New-York Historical Society
| location = New Haven, CT & London & New York
| year = 1995}}
</ref> A particular elevator, traveling between the 86th and 102nd floors, was supposed to transport passengers after they checked in at the observation deck on the 86th floor. However, the idea proved to be impractical and dangerous after a few attempts with airships, due to the powerful updrafts caused by the size of the building itself.<ref>==Further reading==
Template loop detected: Template:Cite book
Template loop detected: Template:Cite book
{{cite book | first=Robert | last=Heinlein | authorlink= | date=1980 | title=Expanded Universe | edition= | publisher=Ace Books | location=New York |</ref> A large broadcast tower was added to the top of the spire in 1953.<ref name = "Enc-NY-Unbuilt"/>

===1945 plane crash===

Main article: B-25 Empire State Building crash


File:Empirestate540.jpg



At 9:40 a.m.on Saturday, July 28, 1945, a B-25 Mitchell bomber, piloted in thick fog by Lieutenant Colonel William Franklin Smith, Jr.,<ref>==Further reading==
==Further reading==
Template loop detected: Template:Cite book
Template loop detected: Template:Cite book
{{cite book | first=Robert | last=Heinlein | authorlink= | date=1980 | title=Expanded Universe | edition= | publisher=Ace Books | location=New York |
==Further reading==
Template loop detected: Template:Cite book
Template loop detected: Template:Cite book
{{cite book | first=Robert | last=Heinlein | authorlink= | date=1980 | title=Expanded Universe | edition= | publisher=Ace Books | location=New York |
{{cite book | first=Robert | last=Heinlein | authorlink= | date=1980 | title=Expanded Universe | edition= | publisher=Ace Books | location=New York |</ref> crashed into the north side of the Empire State Building, between the 79th and 80th floors, where the offices of the National Catholic Welfare Council were located. One engine shot through the side opposite the impact and flew as far as the next block where it landed on the roof of a nearby building, starting a fire that destroyed a penthouse. The other engine and part of the landing gear plummeted down an elevator shaft. The resulting fire was extinguished in 40 minutes. 14 people were killed in the incident.<ref>"Empire State Building Withstood Airplane Impact"</ref><ref>"Plane Hits Building – Woman Survives 75-Story Fall"</ref> Elevator operator Betty Lou Oliver survived a plunge of 75 stories inside an elevator, which still stands as the Guinness World Record for the longest survived elevator fall recorded.<ref>guinnessworldrecords.com</ref> Despite the damage and loss of life, the building was open for business on many floors on the following Monday. The crash helped spur the passage of the long-pending Federal Tort Claims Act of 1946, as well as the insertion of retroactive provisions into the law, allowing people to sue the government for the accident.<ref>Template:Cite news</ref>

A year later, another aircraft had a close encounter with the skyscraper. It narrowly missed striking the building.<ref name="height">Template:Cite news</ref>

===Height records and comparisons===
The Empire State Building remained the tallest man-made structure in the world for 23 years before it was surpassed by the Griffin Television Tower Oklahoma (KWTV Mast) in 1954. It was also the tallest free-standing structure in the world for 36 years before it was surpassed by the Ostankino Tower in 1967.

The longest world record held by the Empire State Building was for the tallest skyscraper (to structural height), which it held for 42 years until it was surpassed by the North Tower of the World Trade Center in 1973. With the destruction of the World Trade Center in the September 11, 2001 attacks, the Empire State Building again became the tallest building in New York City, and the second-tallest building in the Americas, currently surpassed only by the Willis Tower in Chicago. When measured by pinnacle height, the Empire State Building is currently the fifth tallest freestanding structure in the Americas, surpassed only by the CN Tower, the Willis Tower, Trump International Hotel and Tower and the John Hancock Center.

1 World Trade Center, currently under construction in New York City, is expected to exceed the height of the Empire State Building upon completion. The Chicago Spire is also expected to exceed the height of the Empire State Building upon completion, but its construction has been halted due to financial problems.

===Suicides===
Over the years, more than thirty people have committed suicide from the top of the building.<ref name="suicide1">iht.com</ref> The first suicide occurred even before its completion, by a worker who had been laid off. The fence around the observatory terrace was put up in 1947 after five people tried to jump during a three-week span.<ref name="suicide2">Compass American Guides: Manhattan, 4th Edition. Reavill, Gil and Zimmerman, Jean P. 160.</ref> In 1979, Elvita Adams jumped from the 86th floor, only to be blown back onto the 85th floor and left with only a broken hip.<ref>George H. Douglas, Skyscrapers, p. 173</ref><ref>Empire State Building New York.com: Empire State Building Suicides</ref><ref>Geoffrey Broughton, Expressions, p. 32</ref>

==Architecture==


File:EmpireStateBldg.jpg


The Empire State Building rises to Template:Convert at the 102nd floor, and including the Template:Convert pinnacle, its full height reaches Template:Nowrap (443.09 m). The building has 85 stories of commercial and office space representing Template:Convert. It has an indoor and outdoor observation deck on the 86th floor. The remaining 16 stories represent the Art Deco tower, which is capped by a 102nd-floor observatory. Atop the tower is the Template:Convert pinnacle, much of which is covered by broadcast antennas, with a lightning rod at the very top.

The Empire State Building was the first building to have more than 100 floors. It has 6,500 windows and 73 elevators, and there are 1,860 steps from street level to the 103rd floor. It has a total floor area of Template:Convert; the base of the Empire State Building is about Template:Convert. The building houses 1,000 businesses, and has its own zip code, 10118. As of 2007, approximately 21,000 employees work in the building each day, making the Empire State Building the second-largest single office complex in America, after the Pentagon. The building was completed in one year and 45 days. Its original 64 elevators are located in a central core; today, the Empire State Building has 73 elevators in all, including service elevators. It takes less than one minute by elevator to get to the 86th floor, where an observation deck is located. The building has Template:Convert of pipe, Template:Convert of electrical wire,<ref>Empire State Building: Official Internet Site</ref> and about 9,000 faucets.Template:Citation needed It is heated by low-pressure steam; despite its height, the building only requires between Template:Convert of steam pressure for heating. It weighs approximately Template:Convert. The exterior of the building was built using Indiana limestone panels.

The Empire State Building cost $40,948,900 to build.<ref name="cost">==Further reading==
==Further reading==
Template loop detected: Template:Cite book
Template loop detected: Template:Cite book
{{cite book | first=Robert | last=Heinlein | authorlink= | date=1980 | title=Expanded Universe | edition= | publisher=Ace Books | location=New York |
==Further reading==
Template loop detected: Template:Cite book
Template loop detected: Template:Cite book
{{cite book | first=Robert | last=Heinlein | authorlink= | date=1980 | title=Expanded Universe | edition= | publisher=Ace Books | location=New York |
{{cite book | first=Robert | last=Heinlein | authorlink= | date=1980 | title=Expanded Universe | edition= | publisher=Ace Books | location=New York |</ref>



File:Looking Up at Empire State Building.JPG



Unlike most of today's skyscrapers, the Empire State Building features an art deco design, typical of pre-World War II architecture in New York. The modernistic stainless steel canopies of the entrances on 33rd and 34th Streets lead to two story-high corridors around the elevator core, crossed by stainless steel and glass-enclosed bridges at the second-floor level. The elevator core contains 67 elevators.<ref name="AIA"/>

The lobby is three stories high and features an aluminum relief of the skyscraper without the antenna, which was not added to the spire until 1952. The north corridor contains eight illuminated panels, created by Roy Sparkia and Renée Nemorov in 1963, depicting the building as the Eighth Wonder of the World, alongside the traditional seven.

Long-term forecasting of the life cycle of the structure was implemented at the design phase to ensure that the building's future intended uses were not restricted by the requirements of previous generations. This is particularly evident in the over-design of the building's electrical system.

===Floodlights===


File:EmpireStateNight.jpg




File:Empire State Building From NJ.jpg



In 1964, floodlights were added to illuminate the top of the building at night, in colors chosen to match seasonal and other events, such as St. Patrick's Day, Christmas, Independance Day or Bastille Day.<ref>Template:Cite news</ref> After the eightieth birthday and subsequent death of Frank Sinatra, for example, the building was bathed in blue light to represent the singer's nickname "Ol' Blue Eyes". After the death of actress Fay Wray (King Kong) in late 2004, the building stood in complete darkness for 15 minutes.<ref>[2] thevillager.com</ref>

The floodlights bathed the building in red, white, and blue for several months after the destruction of the World Trade Center, then reverted to the standard schedule.<ref>esbnyc.com</ref> Traditionally, in addition to the standard schedule, the building will be lit in the colors of New York's sports teams on the nights they have home games (orange, blue and white for the New York Knicks, red, white and blue for the New York Rangers, and so on). The first weekend in June finds the building bathed in green light for the Belmont Stakes held in nearby Belmont Park. The building is illuminated in tennis-ball yellow during the US Open tennis tournament in late August and early September. It was twice lit in scarlet to support nearby Rutgers University: once for a football game against the University of Louisville on November 9, 2006 , and again on April 3, 2007 when the women's basketball team played in the national championship game.<ref>espn.com</ref>

In 1995, the building was lit up in blue, red, green and yellow for the release of Microsoft's Windows 95 operating system, which was launched with a $300 million campaign.<ref>Washington Post</ref>

The building has also been known to be illuminated in purple and white in honor of graduating students from New York University.Template:Citation needed

The building was lit green for three days in honor of the Islamic holiday of Eid ul-Fitr in October 2007. The lighting, the first for a Muslim holiday, is intended to be an annual event<ref>Empire State Building Goes Green for Muslim Holiday</ref> and was repeated in 2008 and 2009. In December 2007, the building was lit yellow to signify the home video release of The Simpsons Movie.<ref>Empire State adorns yellow to celebrate The Simpsons Movie</ref>

From April 25—27, 2008 the building was lit in lavender, pink, and white in celebration of international pop diva Mariah Carey's accomplishments in the world of music and the release of her eleventh studio album E=MC2.Template:Citation needed

In late October 2008, the building was lit green in honor of the fifth anniversary of the acclaimed Broadway Musical Wicked by Kerry Ellis and Stephen Schwartz.<ref>http://www.broadway.com/Empire-State-Building-Goes-Green-for-Wicked-Birthday-Final-Yellow-Brick-Road-Cast-Announced/broadway_news/5013909</ref>

Starting in 2008, the building along with New York City and many other cities around the world, participated in Earth Hour. The skyscraper's floodlights were turned off for exactly an hour to conserve energy.

In September 2009, the building was lit for one night in orange colors, in celebration of the exploration of Manhattan Island by Henry Hudson 400 years earlier. The Dutch prince Willem-Alexander van Nederlander and princess Maxima were present and turned on the lights from the lobby.

In 2009, the building was lit for one night in red and yellow, the colors of the People's Republic of China, to celebrate the 60 years since its founding, amid controversy.

===Observation decks===
The Empire State Building has one of the most popular outdoor observatories in the world, having been visited by over 110 million people. The 86th-floor observation deck offers impressive 360-degree views of the city. There is a second observation deck on the 102nd floor that is open to the public. It was closed in 1999, but reopened in November 2005. It is completely enclosed and much smaller than the first one; it may be closed on high-traffic days. Tourists may pay to visit the observation deck on the 86th floor and an additional amount for the 102nd floor.<ref name="autogenerated1">https://www.esbnyc.com/tickets/index.cfm?CFID=28691766&CFTOKEN=35278567</ref> The lines to enter the observation decks, according to the building's website, are "as legendary as the building itself:" there are five of them: the sidewalk line, the lobby elevator line, the ticket purchase line, the second elevator line, and the line to get off the elevator and onto the observation deck.<ref>"Ten Things Not to Do in New York"</ref> For an extra fee tourists can skip to the front of the line.<ref name="autogenerated1" />

The skyscraper's observation deck plays host to several cinematic, television, and literary classics including, An Affair To Remember, Love Affair and Sleepless in Seattle. In the Latin American literary work Empire of Dreams the observation deck is the site of a pastoral revolution; shepherds take over the City of New York. The deck was also the site of a Martian invasion on an old episode of I Love Lucy.

Template:Wide image

===New York Skyride===


File:Copy of IMG 2168.jpg



The Empire State Building also has a motion simulator attraction, located on the 2nd floor. Opened in 1994 as a complement to the observation deck, the New York Skyride (or NY Skyride) is a simulated aerial tour over the city. The theatrical presentation lasts approximately 25 minutes.

Since its opening, the ride has gone through two incarnations. The original version, which ran from 1994 until around 2002, featured James Doohan, Star Treks Scotty, as the airplane's pilot, who humorously tried to keep the flight under control during a storm, with the tour taking an unexpected route through the subway, Coney Island, and FAO Schwartz, among other places. After September 11th, however, the ride was closed, and an updated version debuted in mid-2002 with actor Kevin Bacon as the pilot. The new version of the narration attempted to make the attraction more educational, and included some minor post-9/11 patriotic undertones with retrospective footage of the World Trade Center. The new flight also goes haywire, but this segment is much shorter than in the original.

==Broadcast stations==
New York City is the largest media market in the United States. Since the September 11, 2001 attacks, nearly all of the city's commercial broadcast stations (both television and FM radio) have transmitted from the top of the Empire State Building, although a few FM stations are located at the nearby Condé Nast Building. Most New York City AM stations broadcast from just across the Hudson River in New Jersey.



File:Empirestatebuilding29122005.JPG



Broadcasting began at Empire on December 22, 1931, when RCA began transmitting experimental television broadcasts from a small antenna erected atop the spire. They leased the 85th floor and built a laboratory there, and—in 1934—RCA was joined by Edwin Howard Armstrong in a cooperative venture to test his FM system from the Empire antenna. When Armstrong and RCA fell out in 1935 and his FM equipment was removed, the 85th floor became the home of RCA's New York television operations, first as experimental station W2XBS channel 1, which eventually became (on July 1, 1941) commercial station WNBT, channel 1 (now WNBC-TV channel 4). NBC's FM station (WEAF-FM, now WQHT) began transmitting from the antenna in 1940. NBC retained exclusive use of the top of the Empire until 1950, when the FCC ordered the exclusive deal broken, based on consumer complaints that a common location was necessary for the (now) seven New York television stations to transmit from so that receiving antennas would not have to be constantly adjusted. Construction on a giant tower began. Other television broadcasters then joined RCA at Empire, on the 83rd, 82nd, and 81st floors, frequently bringing sister FM stations along for the ride. Multiple transmissions of TV and FM began from the new tower in 1951. In 1965, a separate set of FM antennas were constructed ringing the 103rd floor observation area. When the World Trade Center was being constructed, it caused serious problems for the television stations, most of which then moved to the World Trade Center as soon as it was completed. This made it possible to renovate the antenna structure and the transmitter facilities for the benefit of the FM stations remaining there, which were soon joined by other FMs and UHF TVs moving in from elsewhere in the metropolitan area. The destruction of the World Trade Center necessitated a great deal of shuffling of antennas and transmitter rooms in order to accommodate the stations moving back uptown.

As of 2009, the Empire State Building is home to the following stations:
* TV: WCBS-TV 2, WNBC-TV 4, WNYW 5, WABC-TV 7, WWOR-TV 9 Secaucus, WPIX-TV 11, WNET 13 Newark, WNYE-TV 25, WPXN-TV 31, WXTV 41 Paterson, WNJU 47 Linden, and WFUT-TV 68 Newark
* FM: WXRK 92.3, WPAT-FM 93.1 Paterson, WNYC-FM 93.9, WPLJ 95.5, WXNY 96.3, WQHT-FM 97.1, WSKQ-FM 97.9, WRKS-FM 98.7, WBAI 99.5, WHTZ 100.3 Newark, WCBS-FM 101.1, WRXP 101.9, WWFS 102.7, WKTU 103.5 Lake Success, WAXQ 104.3, WWPR-FM 105.1, WQXR-FM 105.9 Newark, WLTW 106.7, and WBLS 107.5

==Empire State Building Run-Up==
The Empire State Building Run-Up is a foot race from ground level to the 86th-floor observation deck that has been held annually since 1978. Its participants are referred to both as runners and as climbers, and are often tower running enthusiasts. The race covers a vertical distance of 1,050 feet (320 m) and takes in 1,576 steps. The record time is 9 minutes and 33 seconds, achieved by Australian professional cyclist Paul Crake in 2003,<ref>NYRR Empire State Building Run-Up Crowns Dold and Walsham as Champions, New York Road Runners</ref><ref>Empire State Building – Past Race Winners</ref> at a climbing rate of 6,593 ft (2,010 m) per hour.

==In popular culture==
Template:In popular culture
Perhaps the most famous popular culture representation of the building is in the 1933 film King Kong, in which the title character, a giant ape, climbs to the top to escape his captors but falls to his death. In 1983, for the 50th anniversary of the film, an inflatable King Kong was placed on the actual building. In 2005, a remake of King Kong was released, set in 1930s New York City, including a final showdown between Kong and bi-planes atop a greatly detailed Empire State Building. (The 1976 remake of King Kong was set in a contemporary New York City and held its climactic scene on the towers of the World Trade Center.)

The 1939 romantic drama film Love Affair involves a couple who plan to meet atop the Empire State Building, a rendezvous that is averted by an automobile accident. The film was remade in 1957 (as An Affair to Remember) and in 1994 (again as Love Affair). The 1993 film Sleepless in Seattle, a romantic comedy partially inspired by An Affair to Remember, climaxes with a scene at the Empire State observatory.

Andy Warhol's 1964 silent film Empire is one continuous, eight-hour shot of the Empire State Building at night, shot in black-and-white. In 2004, the National Film Registry deemed its cultural significance worthy of preservation in the Library of Congress.

The film Independence Day features the Empire State Building as ground zero for an alien attack; it is devastated by the aliens' primary weapon which incinerates most of New York City.

The Empire State Building featured in the 1966 Doctor Who serial The Chase, in which the TARDIS lands on the roof of the building; The Doctor and his companions leave quite quickly, however, because The Daleks are close behind them. A Dalek is also seen on the roof of the building while it interrogated a human. In 2007, Doctor Who episodes "Daleks in Manhattan" and "Evolution of the Daleks" also featured the building, which the Daleks are constructing to use as a lightning conductor. Russell T Davies said in an article that "in his mind", the Daleks remembered the building from their last visit.

The Discovery Channel show MythBusters tested the urban myth which claims that if one drops a penny off the top of the Empire State Building, it could kill someone or put a crater in the pavement. The outcome was that, by the time the penny hits the ground, it is going roughly Template:Convert (terminal velocity for an object of its mass and shape), which is not fast enough to inflict lethal injury or put a crater into the pavement.Template:Citation needed The urban legend is a joke in the 2003 musical Avenue Q, where a character waiting atop the building for a rendezvous tosses a penny over the side—only to hit her rival.

Many other movies that feature the Empire State Building are listed on the building's own website.<ref>www.esbnyc.com</ref>

H.G. Wells' 1933 science fiction book The Shape of Things to Come, written in the form of a history book published in the far future, includes the following passage: "Up to quite recently Lower New York has been the most old-fashioned city in the world, unique in its gloomy antiquity. The last of the ancient skyscrapers, the Empire State Building, is even now under demolition in C.E. 2106!".<ref>http://gutenberg.net.au/ebooks03/0301391h.html</ref>

In the Science Fiction novel The Rebel of Rhada by Robert Cham Gilman (Alfred Coppel), taking place at a decayed galactic empire of the far future, New York in an ancient city which was destroyed and rebuilt countless times. Its highest and most ancient building, covered with piled-up ruins up to half its height, is known simply as "The Empire Tower", but is obviously the Empire State Building.

The Empire State Building is featured prominently as both a setting and integral plot device throughout much of Michael Chabon's 2000 Pulitzer Prize-winning novel, The Amazing Adventures of Kavalier & Clay.

In the Percy Jackson book series, Mount Olympus is located over the Empire State Building, and there is a special elevator in the building to the "600th floor," which is supposed to be Olympus.

In the 2003 Christmas comedy film ELF, starring Will Ferrell, Buddy the elf's father, Walter, works as a children's book publisher whose office is located in the Empire State Building. In a memorable scene, Buddy gets in one of the building's elevators, and is excited by all of the floor buttons. He lights up all of the buttons, saying that it 'looks like a Christmas tree.'

In the 2009 science fiction film, Transformers: Revenge of the Fallen, Megatron hacks into the Empire State Building's antenna and uses it along with a hacked US Military satellite so that his master, the Fallen, can broadcast an ultimatum to the world.

==Tenants==
Notable tenants of the building include:
<!--Please do not list Garuda Indonesia, Daalo, or Air Zimbabwe as the offices are operated by a travel agent, not the airline itself-->
* Alitalia, Suite 3700<ref name="Foreigners">"Foreigners flocking to 350 Fifth Avenue." Real Estate Weekly. June 30, 2004.</ref><ref>"FAQ." Alitalia (United States website). Retrieved September 4, 2008.</ref><ref>"Claims and Suggestions." Alitalia (United States website). Retrieved September 4, 2008.</ref>
* Croatian National Tourist Board, Suite 4003<ref name="Foreigners"/><ref>Home page. Croatian National Tourist Board. Retrieved September 4, 2008.</ref>
* Filipino Reporter, Suite 601<ref name="Foreigners"/><ref>"Contact." Filipino Reporter. Retrieved September 4, 2008.</ref>
* Human Rights Watch, 34th Floor<ref name="Foreigners"/><ref>"Contact." Human Rights Watch. Retrieved September 4, 2008.</ref>
* Polish Cultural Institute in New York, Suite 4621<ref name="Foreigners"/><ref>Home Page. Polish Cultural Institute in New York. Retrieved September 4, 2008.</ref>
* Senegal Tourist Office, Suite 3118<ref> Information Senegal Tourist Office. Retrieved September 4, 2008.</ref>
* TAROM, Suite 1410<ref name="Foreigners"/><ref>"Travel Agencies for plane tickets to Romania." Massachusetts Institute of Technology. Retrieved September 4, 2008.</ref>
* The King's College, Suite 1500<ref name="tkc.edu">==Further reading==
==Further reading==
Template loop detected: Template:Cite book
Template loop detected: Template:Cite book
{{cite book | first=Robert | last=Heinlein | authorlink= | date=1980 | title=Expanded Universe | edition= | publisher=Ace Books | location=New York |
==Further reading==
Template loop detected: Template:Cite book
Template loop detected: Template:Cite book
{{cite book | first=Robert | last=Heinlein | authorlink= | date=1980 | title=Expanded Universe | edition= | publisher=Ace Books | location=New York |
{{cite book | first=Robert | last=Heinlein | authorlink= | date=1980 | title=Expanded Universe | edition= | publisher=Ace Books | location=New York |</ref>

Former tenants include:
* China National Tourist Office<ref name="Foreigners"/> (now located at 370 Lexington Avenue)<ref>"Contact Us." China National Tourist Office. Retrieved September 4, 2008.</ref>
* National Film Board of Canada<ref name="Foreigners"/> (now located at 1123 Broadway)<ref>"Contact us." National Film Board of Canada. Retrieved September 4, 2008.</ref>
* Nathaniel Branden Institute <ref>In Answer to Ayn Rand by Nathaniel Branden at his ex-wife's website</ref>

==Gallery==
<gallery perrow="3">
Image:Empire State Building background.jpg|A view upward of the Empire State Building from Broadway
Image:Empire State Building Red and Green.JPG|The top of the Empire State Building
Image:Empire State Building up.jpg|Looking up
Image:Looking down from Empire State Building.jpg|Looking Down
Image:ESB Elevators.JPG|Art deco elevators in the lobby
Image:Midtown_Pan1_PS.JPG|Panoramic view of Midtown Manhattan from observation deck
Image:EmpireStateBuildingtotimessquare.JPG|Looking towards Times Square
</gallery>

==See also==
Template:Portalpar
* World's tallest free standing structure on land
* History of tallest skyscrapers
* List of skyscrapers
* List of tallest buildings by U.S. state

==References==




==Further reading==
* Aaseng, Nathan. (1999). Construction: Building the Impossible. Minneapolis, MN: Oliver Press. ISBN 1-881-50859-5.
* Bascomb, Neal. (2003). Higher: A Historic Race to the Sky and the Making of a City. New York: Doubleday. ISBN 0-385-50660-0.
* Goldman, Jonathan. (1980). The Empire State Building Book. New York: St. Martin's Press. ISBN 0-312-24455-X.
* James, Theodore, Jr. (1975). The Empire State Building. New York: Harper & Row. ISBN 0-060-12172-6.
* Kingwell, Mark. (2006). Nearest Thing to Heaven: The Empire State Building and American Dreams. New Haven, CT: Yale University Press. ISBN 0-300-10622-X.
* Macaulay, David. (1980). Unbuilding. Boston: Houghton Mifflin. ISBN 0-395-29457-6.
* Pacelle, Mitchell. (2001). Empire: A Tale of Obsession, Betrayal, and the Battle for an American Icon. New York: Wiley. ISBN 0-471-40394-6.
* Tauranac, John. (1995). The Empire State Building: The Making of a Landmark. New York: Scribner. ISBN 0-684-19678-6.
* Wagner, Geraldine B. (2003). Thirteen Months to Go: The Creation of the Empire State Building. San Diego, CA: Thunder Bay Press. ISBN 1-592-23105-5.
* Willis, Carol (ed). (1998). Building the Empire State. New York: W.W. Norton. ISBN 0-393-73030-1.

==External links==
Template:Commons category
Template:Wiktionary
* Empire State Building official Web site
* Commercial Construction.com
* Lighting Schedule
* Empire State Building Green Retrofit
* Empire State Building Trivia
* Empire State Building Information
* The Construction of the Empire State Building, 1930-1931, New York Public Library
* VIVA2, The Skyscraper Museum's online archive of over 500 construction photographs of the Empire State Building.
* NYC Insider Guide, Empire State Building vs. Top of the Rock compare views.
* Template:Structurae

Template:S-start
Template:S-ach
Template:S-bef
Template:S-ttl
Template:S-aft
Template:S-ttl
Template:S-aft
Template:S-ttl
Template:S-aft
Template:S-ttl
|-
Template:S-ttl
|-
Template:S-bef
Template:S-ttl
Template:S-inc
Template:End

Template:Supertall skyscrapers
Template:New York City Historic Sites
Template:Registered Historic Places
Template:Visitor attractions in New York City













Template:Link FA
af:Empire State-gebou
ar:مبنى إمباير ستيت
an:Empire State Building
az:Empayr Steyt Bildinq
zh-min-nan:Empire State Building
bs:Empire State Building
bg:Емпайър Стейт Билдинг
ca:Empire State Building
cs:Empire State Building
cy:Empire State Building
da:Empire State Building
de:Empire State Building
dv:އެމްޕައަރ ސްޓޭޓް ބިލްޑިންގ
et:Empire State Building
el:Εμπάιαρ Στέιτ Μπίλντινγκ
es:Edificio Empire State
eo:Empire State Building
eu:Empire State Eraikina
fa:ساختمان امپایر استیت
fr:Empire State Building
ko:엠파이어 스테이트 빌딩
hi:एम्पायर स्टेट भवन
hr:Empire State Building
id:Gedung Empire State
is:Empire State-byggingin
it:Empire State Building
he:בניין אמפייר סטייט
ka:ემპაირ სტეიტ ბილდინგი
kw:Empire State Building
sw:Jengo la Empire State
la:Aedificium Civitatis Imperialis
lb:Empire State Building
lt:Empire State Building
lmo:Empire State Building
hu:Empire State Building
ml:എം‌പയര്‍ സ്റ്റേറ്റ് ബില്‍ഡിംഗ്
arz:مبنى الامباير ستيت
ms:Bangunan Empire State
mn:Эмпайр-Стейт-Билдинг
nl:Empire State Building
ja:エンパイア・ステート・ビルディング
no:Empire State Building
oc:Empire State Building
pl:Empire State Building
pt:Empire State Building
ro:Empire State Building
ru:Эмпайр-стейт-билдинг
sq:Empire State Building
simple:Empire State Building
sk:Empire State Building
sl:Empire State Building
sr:Емпајер стејт билдинг
fi:Empire State Building
sv:Empire State Building
ta:எம்பயர் ஸ்டேட் கட்டிடம்
th:ตึกเอ็มไพร์สเตต
tr:Empire State Binası
uk:Емпайр-Стейт-Білдінг
ur:ایمپائر اسٹیٹ بلڈنگ
vi:Tòa nhà Empire State
war:Empire State Building
yi:עמפייער סטעיט בילדינג
bat-smg:Empire State Building
zh:帝国大厦