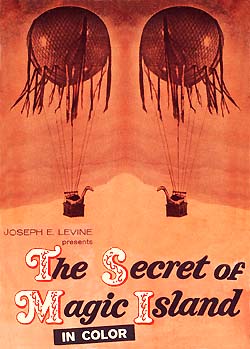 Write the text of your article he
The Secret of Magic Island" re!
The Secret of Magic Island
(aka UNE FÉE... PAS COMME LES AUTRES, IL PAESE DI PAPERINO, SECRET OF OUTER SPACE ISLAND) (1956, France/Italy) color 65 minutes Cine del Duco / Del Duca Films / Milgud / Tourane Distributors Music: Richard Cornu
Cinematography: Maurice Fellous Screenplay: Louise de Vilmorin Produced by Pierre Bochart, Cino Del Duca Directed by Jean Tourane Narrator: Robert Lamoureux
English-Language Version: (1964 / 1967) Embassy Pictures Corporation 63 minutes Produced by Joseph E. Levine Produced by J.D. Trop Screenplay: Richard Lavigne, Frank Scully, Jack Dunn Trop Narrator: Phil Tonken
Plot Outline (Sandra Brennan, All Movie Guide):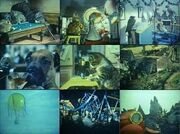 This children's fantasy features live animals as it tells the story of a good fairy's magic wand that is stolen by a malicious monkey who uses the tool to control all the elements.
The Secret of Magic Island is a 1956 kiddie matinee movie from France with a cast made up entirely of animals. And it's awesome. I don't need a plot in order to enjoy watching a dog tend bar and a fox wash a rooster, but there is one. A "villainous space-age" monkey steals a good fairy's magic wand that bestows on him power over the elements. Two brave ducklings travel via hot-air balloon to the monkey's island to end his reign of elemental terror. I think. See, there is no known English-language print of the movie. The bootleg I watched was in Swedish. It honestly could have been in German and I still would have watched it. It's the most adorable one hour of anything ever. It's cutesploitation!
Fortunately, two daring ducks fly via balloon to the Land of the Doves where they are rendered immune to the monkey's evil mojo. Later, the ducks defeat the primate and turn him to stone. They then take the wand back to its rightful owner.
Almost unique in the world of children's cinema, a drama with characters entirely portrayed by animals. The first one was BILL & COO, which utilized all birds, and one might consider an "animal journey" film like THE ADVENTURES OF MILO AND OTIS part of the genre, but this film is a strange occult fantasy, with a good fairy (a cat) fighting a bad fairy (a chimpanzee), with dogs, cats, ducks and birdies all caught up in the bizarre elemental conflict. The narration is humorous as is the shrill dubbing of singing birds and chortling mad monkeys. This odd film was released several times in France, under different titles and with different running times, and was first seen in the U.S. in 1960 as THE SECRET OF OUTER SPACE ISLAND, but didn't see general release here for four more years. It's 1967 Embassy Kiddie Matinee release was its most successful outing.
Video/DVD availability:VHS, DVD (unavailable)
Bunnies shoot pool to relaxe on Magic Island!
Community content is available under
CC-BY-SA
unless otherwise noted.